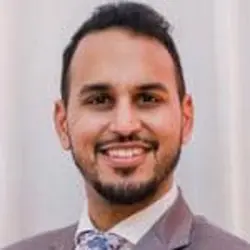 Overview
Dr. Kunj Shah is a highly skilled and reputable dentist, currently serving as the Principal Dentist and Manager at Marsh Lane Dental Surgery. With years of experience in the field, Dr. Shah offers a wide range of dental procedures, including general dentistry and cosmetic treatments, to his valued patients.
What sets Dr. Shah apart is his compassionate approach to patient care. He takes pride in creating a serene and welcoming environment, ensuring that even anxious patients feel at ease during their dental visits. Dr. Shah's dedication to providing the best possible dental experience to his patients is evident in his gentle and patient-centered approach.
Whether it's routine dental care or cosmetic procedures to enhance smiles, Dr. Shah's expertise and commitment to excellence make him a trusted choice for dental care. His unwavering dedication to providing high-quality dental treatments and creating a comfortable experience for his patients make him a highly respected dentist in the community.
Qualifications & Awards
BDS London 2007
MJDF RCS (Eng) 2009
Treatments & Services
Cosmetic Dentistry
Veneers
Teeth Cleaning
Adult Braces
Crowns
Dentures
Re-Root Canal Treatment
Teeth Whitening
Tooth Decay
Traumatic Dental Injury
Amalgamation
Braces
Bridges
Bruxism
Composite Filling
Dental & Maxillofacial Radiology
Dental Emergency
Dental Implants
Dental Surgery
Endodontics
Fillings
Gingivitis
Gum Disease
Gum Surgery
Invisalign
Loose Tooth
Mandibular Advancement Devices
Oral Devices
Oral Infection
Oral Medicine
Orthodontics
Orthodontics
Paediatric (Pediatric) Dentistry
Peri-Implantitis
Periodontics
Periodontitis
Prosthodontics
Pulp Inflammation
Restorative Dentistry
Root Canal Treatment
Root Surface Debridement
Scale & Polish
Sedation Dentistry
Sleep Disorders
Smile Makeover
Special Care Dentistry
Teeth Straightening
Tooth Cavity
Tooth Extraction
Tooth Infection
Insurance Accepted
Aviva Health
AXA PPP Healthcare
April
Norwich Union
Bupa Fee Assured
WPA
CS Healthcare
Cigna
Saga Insurance
Simply Health
Bupa
Legal & General
Allianz Worldwide Care
Vitality Health
Location
London Borough of Harrow, Greater London, England, HA7 4TH, United Kingdom
Working Hours
Monday

Closed

Tuesday

Closed

Wednesday

Closed

Thursday

Closed

Friday

Closed

Saturday

Closed

Sunday

Closed