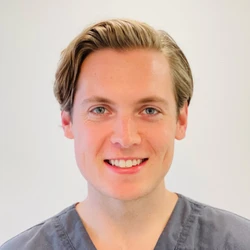 Mr Ruairi Barr
Accepting new patients
Overview
Mr. Ruairi Barr is a highly skilled dentist with extensive experience in the field of general dentistry. He has been practicing at Smile One Dental Practice since 2018, where he is known for his friendly and approachable manner that helps ease the nerves of even the most anxious patients. Mr. Barr is dedicated to providing the highest standard of care to his patients, and he continually strives to improve his skills and knowledge in the field of dentistry.
Mr. Barr holds a Bachelor of Dental Surgery degree from the esteemed University of Manchester, which he earned in 2018. He is well-versed in all aspects of general dentistry and stays up-to-date with the latest advancements and techniques in the field.
Beyond his professional achievements, Mr. Barr has a passion for cooking, traveling, and exploring the arts and culture of London. His diverse interests and experiences contribute to his well-rounded approach to patient care, as he understands the importance of a balanced lifestyle in maintaining overall health and well-being.
Qualifications & Awards
BDS University of Manchester 2018
Treatments & Services
General Dentistry
Fillings
Tooth Extraction
Teeth Whitening
Location
Churchill Gardens Estate, Pimlico, City of Westminster, Greater London, England, SW1V 3HD, United Kingdom
Working Hours
Monday

Closed

Tuesday

Closed

Wednesday

Closed

Thursday

Closed

Friday

Closed

Saturday

Closed

Sunday

Closed