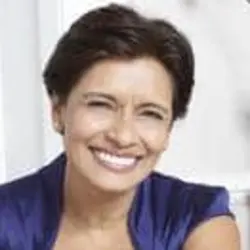 Dr Aditi Desai
Diplomat of British Academy of Dental Sleep Medicine
Description
Dr. Aditi Desai is a renowned Sleep Medicine Dentist based in London with over 42 years of diverse experience. She graduated from the University of Wales in 1977 and completed her MSc in Conservative Dentistry at University College London in 2004.
In 1996, Dr. Desai was invited by the BBC to establish Dental Services within Broadcasting House in London, where she built a successful, state-of-the-art practice offering high-quality dental care including routine dentistry, cosmetic dentistry, implants, and adult orthodontics. She is currently serving as the President of the British Society of Dental Sleep Medicine.
Since moving to 76 Harley Street in 2009, Dr. Desai has further developed her expertise in dental sleep medicine, focusing on the management of sleep apnea and snoring problems, as well as TMJ problems with Oro-facial Pain and Sleep Bruxism which are co-linked. She consults from HCA Outpatients at the Shard in London Bridge as well as from Harley Street.
As part of a multidisciplinary team, Dr. Desai collaborates with various consultants and receives referrals from respiratory, chest, and sleep physicians, ENT consultants, neurologists, and psychologists to provide comprehensive care to her patients. Her aim is to improve treatment outcomes by working closely with the team. She also specializes in providing treatment options for patients who cannot tolerate CPAP (Continuous Positive Airway Pressure) therapy.
Dr. Desai is a founder of Global Sleep Solutions, an establishment dedicated to raising awareness, providing education, and improving access to treatment for a wide range of sleep disorders.
In addition to her clinical work, Dr. Desai is also actively involved in media work, serving as a spokesperson for the British Dental Association (BDA) on various national and international television and radio programs, discussing topics such as the hazards of tongue piercing, the state of the National Health Service (NHS), and the new NHS contract for dentists. She has also been a guest on radio shows and participated in media shows recorded at her practice, sharing her expertise and insights on dental health and related topics.
Recently, Dr. Desai founded the British Academy of Dental Sleep Medicine, of which she is the President, with the aim of providing further education to dentists in various disciplines of dental sleep medicine and creating centers of excellence for the management of sleep disorders that affect over a billion people worldwide.
Insurance Accepted
Allianz Worldwide Care
WPA
Simply Health
Cigna
AXA PPP Healthcare
Bupa
Qualifications & Awards
Diplomat of British Academy of Dental Sleep Medicine, dBADSM
MSc Con Dent Lond 2004
BDS Wales 1977
Accreditation from European Academy of Dental Sleep Medicine
Sleep Council, Royal Society of Medicine
Odontology Council, Royal Society of Medicine
Board Member, (ARTP) Association for Respiratory Technology and Physiology
Member of the British Dental Association
Member of Dental Protection Ltd
Registered with General Dental Council of UK
BSDSM – British Society of Dental Sleep Medicine (President)
BADSM – British Academy of Dental Sleep Medicine (President)
British Dental Association
Council member Odontology Section at Royal Society of Medicine
Council Member Sleep Section At royal Society of Medicine in the professional Registry.
Her published work includes:
Master's Dissertation: Differential Diagnosis between Diagnodent Readings and the level of Bacterial Infection of the underlying dentine in Occlusal Caries Lesions
Women in Dentistry Journal: The restoration of edentulous spaces in a Cleft Lip and Palate patient using magnets including inaugural article commissioned by the Journal for the launch of the Magazine
Several articles on dentistry and sleep medicine in Dental Update, The Probe and Dentistry Journal
A chapter on Dentists' Role in Sleep Medicine) written for the Oxford Book on Sleep Medicine (in print)
Treatments & Services
Obstructive Sleep Apnoea (OSA)
Mandibular Advancement Devices
Snoring Problems
Sleep Disorders
Oral Devices
Bruxism
Dental Sleep Medicine
Temporomandibular Joint (TMJ) Problems
Dental Phobia
Digital Dentistry
Gum Recession
OPG X-Ray (Orthopantomography)
Oral Medicine
Orofacial Pain
Orthodontics
Orthodontics
Prosthodontics
Teeth Grinding (Bruxism)
Video Consultation
Languages Spoken
Hindi
Urdu
Punjabi
Gujarati
English
Price List
New Appointment: £295
Follow-Up Appointment: £195
Address
London Bridge Quarter, The Borough, London Borough of Southwark, London, Greater London, England, SE1 9BS, United Kingdom
Working Hours
Monday

Closed

Tuesday

Closed

Wednesday

Closed

Thursday

Closed

Friday

Closed

Saturday

Closed

Sunday

Closed