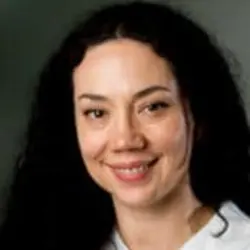 Overview
Monica Rojas Serrano is a highly experienced dentist who operates her practice at Devonshire Place, conveniently located just off Harley Street in London. Monica qualified as a dentist at the University of Bogota in Colombia before obtaining full registration with the UK's General Dental Council. She has extensive knowledge and experience in general dentistry and specialist procedures, having worked for over ten years at the Harley Street Oral Reconstruction Clinic and the 152 Harley Street Clinic.
In addition to her clinical work, Monica has also worked in dental academic research, having taken up a post as a Clinical Research Assistant on research projects at Whipps Cross University Hospital and Guys and Kings College Hospital in London.
As the owner of Devonshire Place, Monica is committed to providing her patients with world-class dentistry in a warm and welcoming environment. She and her team believe that dentistry is a combination of technology, science, and art, and strive to offer the very best dental care using the latest materials and techniques. From the first appointment to the final check-up, patients are given the utmost care and attention by Monica and her friendly and professional team.
The practice offers a comprehensive range of specialist treatments suitable for patients of all ages, and places great emphasis on preventative dental care. Whether it's general dental care or more complex specialist treatment such as dental crowns, implants, or root canal treatment, Monica and her team ensure that patients receive affordable, high-quality care. Additionally, the practice offers cosmetic dental procedures such as teeth whitening and veneers to enhance patients' smiles and boost their confidence.
Qualifications & Awards
El Bosque University of Bogota, Colombia, BDS
Treatments & Services
Scale and Polish, Dental Hygiene
Bridges
Crowns
Root Canal Treatments
Dental Implants
Surgery
Orthodontics
Cosmetic Dentistry
Teeth Whitening
Veneers
General Dentistry
Cavities
Dental Hygiene
Children's Dental Care
Preventative Dental Care
Dentures
Bridges
Crowns
Root Canal Treatments
Dental Implants
Oral surgery
Jaw Problems
Orthodontics
Preventative Orthodontics
Myofunctional Therapy (Myobrace)
Periodontics
Orthodontics
Cosmetic Dentistry
Whitening
Veneers
Smile Assessment
Working Hours
Monday

Closed

Tuesday

Closed

Wednesday

Closed

Thursday

Closed

Friday

Closed

Saturday

Closed

Sunday

Closed
Claim Free
Is this you?
Claim listing is the best way to manage and protect your business.
Claim Free
Contact Listings Owner Form